Welcome to the Bavarian Inn Lodge Press Room
---
---
Frankenmuth's Bavarian Inn Lodge, America's largest Bavarian-themed resort, has, since its opening, embarked on and completed seven major property project investments totaling $40 million at the lodge, as well as its Family Fun Center.
We invite you to download the press releases, photos and captions here. And check back often for updates featuring new announcements, photos and videos.
Questions and media interview requests contact:
Sue Voyles
sue@logos-communications.com
734-667-2005
---
---
______________________________________________________
Frankenmuth River Place Shops take visitors on a historical trip via the Cass River Colonial Encampment July 21-22
FRANKENMUTH, Mich. July 5, 2018 — Visitors to Frankenmuth River Place Shops can experience military life in the 18th century, complete with battle reenactments and weapon demonstrations, during the Cass River Colonial Encampment the weekend of July 21 and 22.
The two-day free event is from 9 a.m. to 6 p.m. Saturday and 9 a.m. to 4 p.m. Sunday and includes more than 250 actors portraying British, French and American soldiers taking part in tactical battle reenactments from the Revolutionary and French and Indian wars.
Other actors will depict voyagers who explored the 18th century American wilderness and one of the Founding Fathers of the United States, Benjamin Franklin.
Family-friendly activities include period musical concerts and games, a fashion show, colonial-inspired vendors and tours of authentic campsites set up by reenactors on the east side of River Place Shops and the area near the Covered Bridge.
The Cass River Colonial Encampment has been a window to the past for visitors for 12 years and provides a fun learning experience for the whole family, said Michael Keller Zehnder, vice president of Bavarian Inn, Inc.
"One of my favorite parts of this event is to see parents and their children interacting with the actors and gaining a new appreciation for history and what life was like over a century ago," Zehnder said. "I know my kids enjoy the event, and am glad Frankenmuth River Place Shops can offer this kind of experience to families from around the region."
Each day's schedule kicks off with a Flag Ceremony and March from the Pedestrian Bridge between River Place Shops and the Covered Bridge and Leather Gift Shop, and features a tactical battle reenactment at either the River Place Shops or the historic Covered Bridge located between the Bavarian Inn Restaurant and the Lodge.
Those interested in participating in this event may still do so. Reenactors can contact Brent Kemmer at kemmerc@hotmail.com. Voyagers can contact Merlyn Hodge at lafalcon@tds.net.
Frankenmuth River Place Shops: http://frankenmuthriverplace.com is an authentic re-creation of a Bavarian village located just minutes from the Bavarian Inn Restaurant and Lodge. The outdoor mall features more than 40 unique shops and attractions at one location. Visitors enjoy architecture, floral gardens, streams and waterfalls and, of course, great shopping opportunities.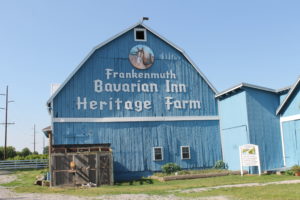 Grandpa Tiny's Farm Hosts Interseeding 'Show and Tell' July 11
Seed to be named 'Tiny' after Frankenmuth Patriarch
FRANKENMUTH, Mich. – July 3, 2018 – Blue Water and Saginaw County Conservation Districts have chosen Grandpa Tiny's Farm in Frankenmuth as the site of their "INTERSEED IT" Field Demo Day on Wednesday, July 11.
Running from 9 a.m. to 2 p.m., this free event will show off the equipment, methods, and programs available to make interseeding a reality. Interseeding can help establish cover crops in Michigan, which is generally difficult due to the climate and other factors. But when done correctly, cover crops can help build soil health, weed control and forage.
This event will take place along the banks of the Dead Creek in Frankenmuth, right in the heart of the Cass River Watershed, using CISCO Farm seeds from Indianapolis.
To honor the namesake of the farm, this seed will be named after William "Tiny" Zehnder, who with his wife Dorothy, founded the Bavarian Inn Restaurant, where Dorothy at 96 years young continues to work six days a week to this day. Grandpa Tiny's Farm is owned by the William and Dorothy Zehnder Foundation.
A Frankenmuth Chicken lunch will be provided to the first 100 RSVPs at www.interseed.eventbrite.com. Grandpa Tiny's Farm is located at 7775 Weiss Street in Frankenmuth. Learn more about the farm at www.grandpatinysfarm.com.
Frankenmuth Cheese Haus Will Change Downtown Landscape with New Onion Dome
A Zwiebelturm to Top the Figurinespiel Tower on July 11
FRANKENMUTH, Mich. – July 2, 2018 – On Wednesday, July 11, the  Frankenmuth Cheese Haus will forever change the landscape of downtown Frankenmuth when a 23-foot cooper onion dome will be placed on top of the building's tower, located at 561 South Main St. in Frankenmuth.
The 2,000 pound Zwiebelturm—German for onion dome—will be hoisted in place at 11:00 a.m. The public is invited to witness the event alongside excited host members of the Bavarian Inn Zehnder family. "I'm not aware of many places in America that have a Zwiebelturm. Frankenmuth is unique to have so many and the Cheese Haus is proud to have this one as part of its new building," said Cheese Haus President Judy Zehnder Keller.
The onion dome, constructed by Campbellsville Industries, will travel 489 Miles from Campbellsville, KY just in time to arrive the day prior to the big event. Once the dome is in place atop the tower, the combined structure will stand 74 feet tall distinctively complimenting Frankenmuth's Bavarian architectural style.
The Cheese Haus is a top tourist destination for generations of travelers. To accommodate more visitors, the Cheese Haus launched an expansion project earlier this year from its current 2,700 square feet to a new 16,000 square-foot Bavarian-themed building at 545 S. Main St., just steps from its current location with the opening set for this August.
The new, expanded location will offer more room for product sales and demonstrations. The second-floor hospitality area will be able to accommodate groups, motor coach travelers and special events. The new onion tower will also house figurine movements called a Figurinespiel, an animated story about popular cheeses from around the world, and a sundial.
The current Cheese Haus building remains open during the construction and will become retail space in 2019. To keep up with construction updates and the latest information, follow the Cheese Haus on Facebook.
#    #    #
The Frankenmuth Cheese Haus specializes in the production and sale of imported and domestic cheese. Cheese Haus artisans make homemade cheese spreads including garlic, horseradish, bacon, jalapeno, smokey jalapeno, fiery jalapeno, and a creamy blue cheddar spread. In-store, the staff creates delicious specialty flavored cheeses including chocolate, chocolate mint, chocolate peanut butter, strawberry, and blueberry cheese. These many cheese options are complemented by an abundant variety of crackers, meat, mustards/sauces, and gadgets galore. A special Cheese Haus team also runs the Cheese Trap food truck launched in the summer 2017. Learn more at http://www.frankenmuthcheesehaus.com.